The name of this post has little meaning but I've borrowed from an OPI nail polish just because I love the name (and the colour too) and this is another post about nails. Meet me on the Star Ferry is an unusual  dusky lilac pink shade that can look decidedly rosewood-coloured in certain lights. What a complicated description!  OPI in particular have some wonderful names for their polishes though they often give no indication as to the actual colour.
My favourite OPI collection dates back to 2012 when, to coincide with the release of Skyfall,  OPI released a limited edition range of twelve polishes named after the most iconic Bond Films to celebrate the forthcoming fifty year anniversary of the first one. Die another day which was part of the collection is a brilliant vermilion and it's long been a great favourite of mine. I'm on my fourth bottle and although no longer available, I have about one third of my final one left. The fabulously rich colours in the Bond Collection also included Tomorrow never dies, a deep purply-blue which I use much less often (still using my first and only bottle of this ) as I tend to stick with pink , red and orange shades.  Still, I can't help but go a little wild now and again and it makes a lovely change in winter. In the same collection was the 18K gold top coat The man with the golden gun (with flecks of real gold) which I received as a Christmas present that year. Sadly, the contents are long gone.
Die another day, Tomorrow never dies, The man with the golden gun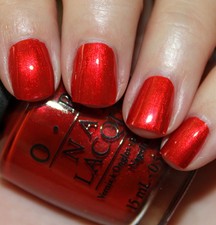 As I can't replace it I've been cutting down on the number of times I use Die another Day because I've not found anything to quite match it nor quite so wonderfully rich.  I have recently found another OPI  colour which isn't a million miles away  – An affair in Red Square is a little less flame coloured but I do like it very much.
2012 – that's six years ago – so it might have surprised you when you read that I am still using the polishes. It's a long time for nail polish to last, but so long as you look after it properly, it will last pretty much as long as you want it to.
The reason that nail polish becomes thick and gloopy is because it's drying out. This doesn't need to happen if you keep the neck of the bottle and the lid scrupulously clean. After use dampen a cotton wool pad with remover and wipe it vigorously around the neck of the bottle. Every so often I also insert a cotton wool bud that has been dipped in remover into the lid and wipe away any trace of polish that has found its way in there.  The lid should screw on and off an easily as the first time you opened your new bottle. If you have polish that has thickened, you can make it usable again. Using a medicine dropper with one drop of acetone-free nail polish remover to the polish and give it a good stir with a cocktail stick. Test it, and if need be, add another drop. If you haven't got a dropper, dip a cotton wool bud into the remover and gently squeeze a drop into the polish.
As I type I am wearing a very clever Bio Sculpture colour – Watermelon Freeze (which, depending on what clothing one wears, looks either a pinkish-coral or an orangey-coral) on my fingers and toes.
Vogue magazine asked the question of several 'celebrity' manicurists: "Should you match your tips and toes?" The opinions, as you might expect, differed:
"Yes, you should totally match them. It's classic and never goes out of style,"(Naomi Yasudu)
"No, matching nails are boring. [It] used to be a must back in the day and some women still follow that guideline," (Kimmie Kyees)
No, I hadn't heard of them either!  So do we match or don't we?  The only answer can be to go with your own preference. For me that means either matching them, or using different tones of the same basic colour.  for me – it's a case of cometimes I do, sometimes I don't.  Of course, you can always have either your fingers or toes painted in the French style – clear with white tips, and I occasionally do. That way you can co-ordinate with anything. And in case you're wondering …no, I never paint my toes blue; I leave Tomorrow never dies only for winter fingers!
A couple of trends that I'm not personally keen on are having one nail painted a different colour, each nail a different colour , having designs painted on to the nails or jewels glued on to them. Whilst I appreciate the artistry (some are really very imaginative and quite beautifully designed), it's not for me.
Benecos are advertsing the fact that their polishes are 8-free. I like my polishes to be at least 3-free so this is great. I contacted the company to ask which colours are high gloss (I don't like matte) and they have assured me that they are all glossy so I'm tempted to order some. If you have no idea what I'm talking about with the 'free' references, see here: Nailing it . They also sell a natural remover. Some removers are terribly harsh and it's best to avoid those containing acetone (except when you have glittery polish to take off. I tend to avoid this for the most part because it's an absolute devil to remove). One of the easiest methods of removing polish is to use the Bourjois pot into which you put your finger and twist. It's acetone free and contains almond oil. I can't say that it literally does what it says on the bottle since it takes around 8 seconds per nail rather than the one second claimed but even so, it's very quick!
I've said before that by taking the time and effort to apply it properly I expect my nail polish to last 8, even 10 days.  That's not to say that I never get a chip! But instead of starting again from scratch, take a cotton bud and the very tip into remover. Use this to lightly rub the chipped area until the edges smudge. Then paint the whole nail with two coats of polish and a top coat. Job done.  Don't be tempted just to paint over the chip because firstly you will create a visible 'step' in the polish thickness and secondly, it will almost certainly chip again in the same place. when it comes to nails, patching doesn't work!